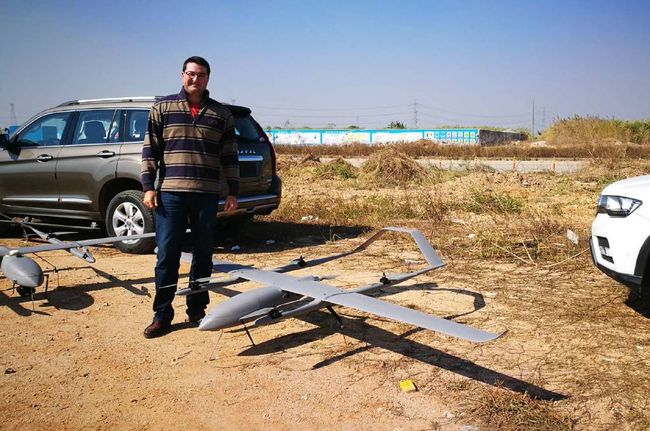 From Hayley Kennedy at Queensland Country Life
Goondiwindi agtech startup InFarm is the only private company to be selected for one of six artificial intelligence grants from tech giant Microsoft.
InFarm founder Jerome Leray said he was stoked to be receiving the grant.
"It's pretty damn humbling that they thought that InFarm was a worthy recipient," he said.
"It's a big deal for the area and for rural agriculture in Australia that Microsoft, as a big software company, is looking at us and looking at opportunities that we might present to really help the world."
The business has been using AI to help identify chemical resistant weed species in fallow fields and provide application maps for use in autonomous, variable spray tractors.
Mr Leray said using drones to survey fields, AI then interprets the images
"The resulting insight to allow targeted weed-spraying that we estimate can reduce farmers' herbicide costs by 95 per cent and also rein in the amount of chemicals used overall," he said.
"The whole architecture that we're creating around detecting those weed species will be accelerated by this grant because what it's doing is giving us access to super computers, or computers that we wouldn't have access to out in Gundy, these are $3 to $4 million computers and we have access to them now to train our algorithm.
"It allows us to teach them a lot faster and it also allows us to evaluate the algorithm and start to make some changes to it and it basically means we can do that significantly faster."
Mr Leray said to be able to keep up with the demand from farmers, he's had to build the capacity of the business.
"On top of this, you layer the opportunity that Microsoft has presented to us, it means we'll be able to go even faster which is a really fantastic problem to have.
"We're hoping that the opportunity that Microsoft has given us will allow people like MLA, the Landcares, and the likes of GRDC and CRDC to come on board and join what we're creating and leverage the opportunity that Microsoft is giving us.
"We're pretty keen to work with those guys to deliver results to growers."
Australian recipients this year include Monash University, Griffith University, Queensland University of Technology, the Australian Wildlife Conservancy, and Bush Heritage Australia, whose AI-focused projects have been awarded support through Microsoft's USD$50 million AI for Earth program.
AI for Earth is designed to harness technology to help mitigate and adapt to changing climates, ensure resilient water supplies, sustainably feed a population rapidly growing to 10 billion people, and stem the ongoing and catastrophic loss of biodiversity.
Microsoft chief environmental officer Lucas Joppa said as a technology company with a deep commitment to sustainability, they understand that their responsibility extends beyond their own operations to innovating towards a healthier and better future more broadly.
"The world is seeing rapid advancements in cloud and AI solutions that are unlocking new possibilities to solve the world's most challenging problems," he said.
"The uptake of those solutions to understand and protect the planet is proceeding slowly, and as such, we are essentially flying blind when it comes to understanding how our planet is changing and how to best solve environmental challenges. AI can change that.
"Time is too short and current human resources are too few to solve urgent climate related challenges without the exponential power of AI."
Mr Joppa said by putting AI in the hands of researchers and organisations we can use important data insights to help solve issues related to water, agriculture, biodiversity and climate change.
Microsoft's belief in AI-enabled impact extends beyond AI for Earth which is part of the company's broader AI for Good initiative.
Together AI for Earth, AI for Accessibility and AI for Humanitarian Action represent a USD$115 million five-year commitment to combine Microsoft's technology and expertise in AI and data science with the talent and expertise of groups around the world in fields such as environmental science, disability needs and humanitarian assistance.
These latest six Australian projects are among the 230 spread across more than 60 countries which have received AI for Earth grants and support to date.